Anniversaries are special occasions, especially, the very first one. And the first anniversary will only come once. It does not matter how much can be afforded, on this day, that one wishes to gift their second half the best experience. It could be spending quality time with a home-cooked comfort food or fine dining as this one. The choice of a restaurant conveys two things: how highly the person thinks of you; and how much this person thinks you deserve it. This is the greatest surprise received when it is kept a secret all day long.
Eddie V's is one of the premier style dining layouts that one can find at resorts or luxurious destinations.
That winter evening, the place was bustling with a marked upper class gentry pleasantly chatting away in a well-lit warm-toned room with a high ceiling gazing down in an inviting fashion. There was a delicious aroma of butter, herbs with hints of smokiness of the meat that informed of talented chefs at work. An open wine cellar mounted tall against the wall caught my attention with awe. This cellar was remarkably well-maintained, for it not only exhibited the number of wines up there, but also bespoke its antiquity and rarity by subtle volumes. Over the seating towards the rear, it was visible that on occasions they host live music to compliment the ambience.
The table was lovingly decorated with rose petals and a small candle just enough to radiate golden rays on the center of the table and us. There was a card wishing Happy Anniversary – nice touch! A sociable, pleasant waitress soon arrived with the menu and recited the Chef's Specials effortlessly and passionately. Most of what was on the menu appeared entirely new, but after carefully reading the titles, ingredients and composition of the dishes – very impressed.
An order of Chilled Gulf Shrimp and Jumbo Lump Crab Cake was placed. Chilled Gulf Shrimp comes Cocktail Style with Atomic Horseradish and Spicy Mustard while Jumbo Crab Cake came Sautéed Maryland Style with Spicy Chive Remoulade. Each equally flavourful and worth the try.
The crab cake which otherwise is served in quite many restaurants must have a technique that brings out the sweetness of crab meat perfectly without messing with its texture. This crab cake was soft, juicy, sweet, sea salted, lightly spiced and well-bonded with the bread crust which was best accompanied by the slightly sour and creamy Remoulade.
Eddie V's is best recommended for its seafood. It is not the availability of wide variety of seafood dishes that raises the bar, but it is the interesting combination of ingredients brought together by finesse and perfection in cooking that does it. Such novelty in food that it could compel one to choose the unusual over the usual choices of dinner. It makes no sense to try the good old steak, cooked the way you like it versus experiencing new blend of ingredients that could become the best thing ever eaten! Although, we normally eat chicken and pork, we decided to try some seafood that neither of us have tasted before. We are completely unaware at this point whether it could be digested by us without allergic reactions. Fortunately, there were no incidents.
The main course presented to us was artistic to see. He ordered a Swordfish Steak that was broiled and finished with avocado, pink grapefruit, cilantro and red chile – as unusual as that sounds, it was very enjoyable. The steak itself was grilled with salt, pepper and hints of garlic butter, but when eaten with the tangy grapefruit and spicy chile, it gave this dish a new dimension. The avocado and grapefruit combination tasted tropical while just the steak and red chile proved a great pair by itself. Each bite was much different than the previous.
I ordered Parmesan Sole that was Parmesan crusted with heirloom tomato salad and lemon garlic butter sauce – an absolute treat. It has all the ingredients to please the palette. This fish had a fleshy texture, well-cooked and left tender at the center with the right juiciness that mingled with the lemon garlic butter sauce. The Parmesan crust stuck to the fish very well and salted the flesh perfectly.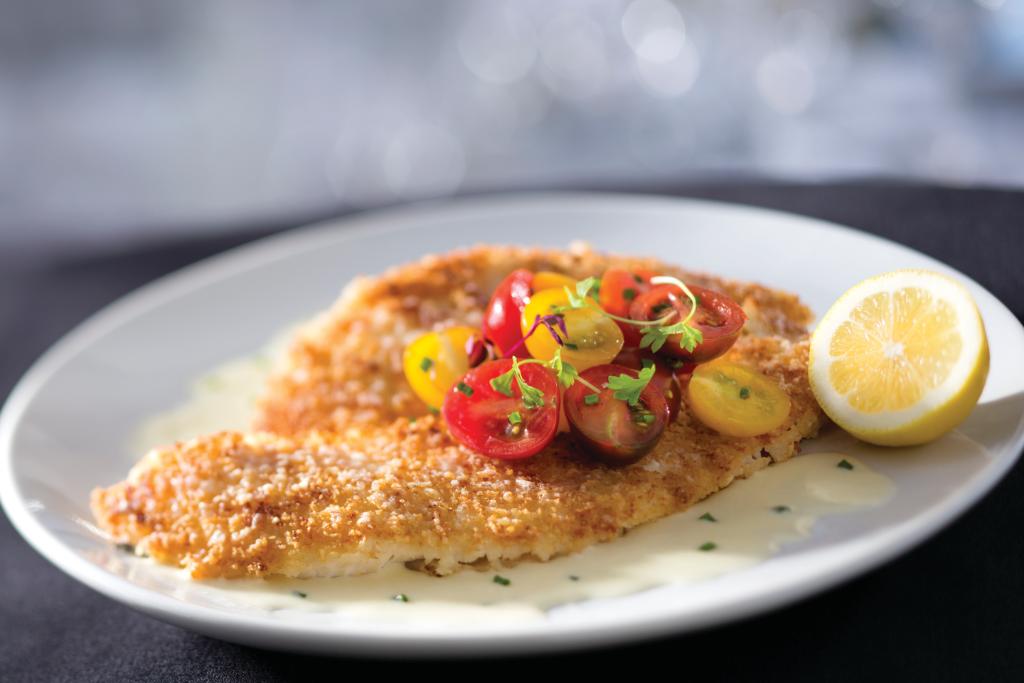 This wholesome dinner was completed with a gracious gesture of anniversary complimentary champagne. The staff took great care in attending to us timely and courteously. Most often it feels like they do it because they are asked to, but here it felt like they wanted to.
Eddie V's has plenty, yet limited locations for offering their fine dining experience. Those living in California and Texas can find up to six outlets. But, it is a privilege to be near one for those living in Arizona, Illinois, Michigan, Missouri, Colorado, Florida, North Carolina, Pennsylvania and Virginia. There is are as many as one! Do find out if you are lucky and let the place decide an occasion instead.