New York City, especially, uptown Manhattan is known for its posh, affluent business district and luxurious living. It is quite overwhelming to even stand and admire this grandeur from the sidewalk. The transition from Midtown Manhattan to Uptown Manhattan is worth observing. While Uptown Manhattan boasts of lavishness, the Midtown Manhattan is the busiest business district with people ranging from all classes of society. This makes it convenient for someone normal to adjust to the crowd and not let be belittled by the magnificence of the surroundings. The popularly advertised Central Park is closer to the entrance into Upper West Side of Manhattan and a beautiful, well-visited spot in the middle of the city. As refreshing as it is with lakes, greens and friendly people, a long walk covering the entire park can also be exhausting.
Serafina is located on E 79th Street NYC. When you are hungry, it is true that you can eat just about anything. But, when you are hungry and have the choice of authentic Italian pizzas, you just cannot pass it on. From the outside, it appears simple with yellow awnings decorated in the middle half of the building – giving the impression that it would be size-crunched.
It is a dingy entrance with dark stairs that lead one person at a time to the upper deck. Upon entering, the place quickly assumes the vibe of a fine dining restaurant that's worth a date. Medieval and contemporary paintings largely occupying one side of the wall and long rectangular windows overlooking the downtown on the other, the rest of the restaurant had white draperies, small neatly arranged tables and a bar beside the entrance giving an elegant appearance. Those tables looked perfect and picturesque as long as I was standing, but when we were given one facing the downtown, it was neat but tightly set. If a big person walked in, they would have a hard time adjusting in their seat. Because the space is small, the tables is small, and because the tables is small, there are many of them to occupy as many customers at once.
Of course, when you say Italian cuisine, the place comes with the natural ambience of incessant cheese-filled fragrance. This smell is known to make someone who has just eaten crave for more. This is not simply cheese – it is the Reggiano, with the scent of fresh baked pizzas having buttered crusts. We were starving already and it just went a notch up.
We were seated in a tight spot overlooking the downtown below. With little adjustment and shifting here and there, we sat down relieved and ready to enjoy some Italian. We first brought freshly baked bread with a bottle of extra-virgin olive oil to be poured out in a plate and seasoned with sea-salt and pepper. This magical potion has the potential to add flavour to the most tasteless foods. Their bread was very fresh and soft with a tight crust that made dipping easier, but when the bread soaked the extra-virginity of the olives, it tasted both salty and had just the right amount of sharpness.
Since there were only three of us, we decided to share the Regina Margherita pizza with basil, tomato and cheese drizzled with garlic and olive oil. Many people end up ordering more than they can consume, rather consumed by desire to try new food, the food goes to waste. As much as I love food, I know how much I can eat even if my palette does not find satiation. Other items on the menu were equally appealing. I can say this was the most authentic Italian menu, I have come across as their dishes described their process as well as the right combination of ingredients. Also, apart from those others that claim to be Italian restaurants that I have visited, this was the first one to have originals and varieties of Risottos, Raviolis, Fettucine, Farafalle, Gnocchi, Bolognese and more.
Shortly after, there was a 10 -12 inch pizza wafting from the kitchen on a wooden board placed before us on the table. It had an attracting quality with the fresh green of basil leaves with shiny big cherry tomatoes and dollops of melting cheese. Without hesitation, we drizzled over some olive oil given to us earlier and complete the dish. The first bite was hot and I could not wait because it smelt deliciously. I am sure this has happened to everyone. However, the bite was a perfect thin crust crisp and since we opted for the wheat crust, it browned just fine, retaining the flavour of butter at the same time. The garlic and tomatoes always add the best touch to any pizza. Once the garlic is roasted, it turns sweet instead of pungent which then mixes with the citrus sweetness of the tomatoes. This pizza gave a pronounced definition to both these toppings. Basil leaves were extremely fresh and spreading four of them was a good idea. Some pizzas overuse basil in their toppings, but that just exaggerates its presence, when truly it must only be a hint. Cheese is always the crown of the pizza and steals away all credit. Overall, a pleasing meal to the senses and just the right quantity for two to three persons.
Since there was room for just a little more, we decided to check out their dessert menu. It was tempting to even read those names while only imagining those blend together in the mouth with the unfairness of just picking one, does not do justice to my palette. It was easy. Tiramisu was the majority vote against other equally decadent options like the Chocolate Sensation which is made out of 7 layers of chocolate variants, and the regular favorite Chocolate Mousse.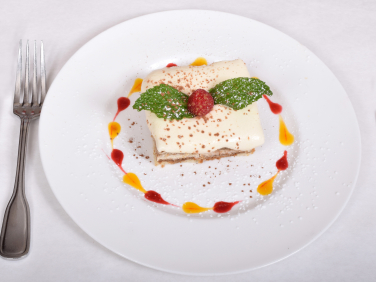 To understand a premium quality, all you need to do is keep it on the tongue and let it melt! That's exactly what this pleasant flavor of coffee, cream, and that little base of cake does. It is a popular dessert, but it is also hard to find the best ones. I am glad I did. The dusted coffee on this one first makes its way to you through smell and later, through taste. The bite did not taste refrigerated cold, but in fact, the right temperature that delivers the best taste. Sometimes, when desserts are served chilled, they do not offer as much taste as they would if eaten at a slightly warmer temperature.
I am quite impressed with this restaurant and I think many others visiting this one would experience a luxurious treatment, too.